ZeeWeed* Ultrafiltration Hollow-Fiber Membranes
Reduce operating costs and maintain efficiency with a longer lasting membrane
SUEZ's ZeeWeed ultrafiltration (UF) hollow-fiber membranes are designed with a robust life expectancy, giving you confidence in your water treatment system's operation and helping you comply with regulatory requirements.
ZeeWeed hollow-fiber membranes are utilized for drinking water, wastewater, tertiary and water reuse applications, as well as industrial feedwater and reverse osmosis (RO) pretreatment. The advanced technology is operational in thousands of municipal, industrial, and commercial applications worldwide. In addition to a smaller treatment plant footprint, SUEZ's ZeeWeed hollow-fiber membranes can treat virtually any raw water quality to the quality needed.
ZeeWeed 1500 Benefits
ZeeWeed 1500 is an outside-in feed, hollow-fiber, ultrafiltration membrane. Our proprietary PVDF membrane is strong, fouling-resistant and easy to clean. ZW1500 will consistently deliver the highest quality effluent water. Key Product Features:
High solids tolerance: hollow-fibre outside-in feed membrane is ideal for treating waters with high solid concentrations.
Resilient: handles feed water turbidity spikes, variations in water quality and coagulant use.
Versatile: ability to retrofit other ultrafiltration and microfiltration systems.
Simple: easy to install, easy to operate, easy to maintain.
Customizable: the same module works as a standalone unit in a rack or in our integrated header solution, ZW1500-RMS.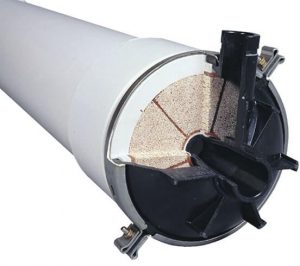 ZeeWeed 1500 Rackless Module System (RMS)
The ZeeWeed 1500 RMS is part of the revolutionary SUEZ RMS family of products, available for both of our pressurized ultrafiltration membranes (1500 and 700B). SUEZ RMS is a simple, cost-effective integrated header system – no rack required.
Benefits of the ZeeWeed 1500 RMS:
Simple: Factory pre-assembled RMS kits make site installation easy and quick
Low Cost: 75% less than a typical rack
Modular: Customize plant layout using standard, pre-assembled kits and add new ZeeWeed 1500 modules at any time – no need to build extra rack space for future expansion
Optimize Footprint: 50% reduction in footprint compared to racked module installation
Customize Layout: Build RMS in 2 wide or 4 wide, single branch or double branch configurations – many possibilities